Two weeks from which to choose:
Dubrovnik to Split/Northbound Itinerary – September 9-16, 2023-One Upper Level Cabin just came available for this sailing!
Split to Split/Northbound Loop – September 16-23, 2023-This departure is now sold out–
Itinerary | Getting There | Pricing | Reserve
NW Travel has chartered the 38-passenger yacht Ave Maria for back-to-back weeks on the Dalmatian Coast. Come for just one week or both. Extend your holiday with more time in Croatia, or come to Tuscany afterward for a week of wine tasting and touring the hill towns of the region.
Crystal clear water, pristine national parks, ancient civilizations, world class wines, and incredible cuisine. Why wouldn't this Eden be on your list?
This is a repeat of an extraordinary week aboard Ave Maria in September 2021. A fantastic experience demanded a repeat performance.
Document Downloads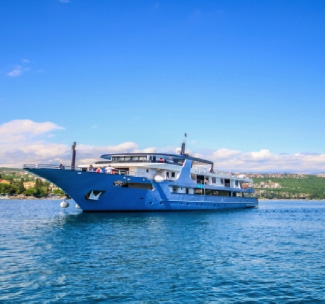 About the MV Ave Maria
Entered into service in 2018
161 feet in length
29 feet wide
Dining room
Jacuzzi
Sun deck
Swimming platform
Lounge
Full galley
Full crew compliment
Docking each evening in the center of historic ports of call
The two itineraries are outlined below. The highlighted links will take you to a more detailed description of the island, village, or site. Pricing is listed later in this page for each cruise. Guests that would like to cruise back-to-back on both sailings will receive a discount of $200 per person.
Dubrovnik to Split
Northbound itinerary – September 9-16, 2023
DAY 1: DUBROVNIK
Transfer from Dubrovnik airport to the Dubrovnik Gruž harbor for check-in from 2:00 PM onwards. After settling in, transfer to the city gates for a guided tour of the city. Meander through the narrow, car-free limestone streets – worn smooth under the soles of centuries of pedestrians, exploring the Gothic, Renaissance and Baroque architecture. Take the cable car from the Old Town to the Srđ mountain to enjoy scenic views of the mighty ramparts and the Elaphiti Islands. After the tour, return transfer to the vessel to meet the crew and enjoy cocktails and dinner on board, to toast to the upcoming cruise week ahead. Overnight in Dubrovnik. (D)
DAY 2: DUBROVNIK – SLANO (STON)
Departure to the small village of Slano on the mainland. Enjoy the magical scenery as cruising around Dubrovnik city walls before continuing to one of the Elaphiti islands for a swimming stop. Afternoon arrival in Slano, a peaceful fishermen's village and our starting point to Ston, a once fortified small village, famous for its oysters. After exploring the town's long medieval ramparts, heading for a small village nearby to learn more about oysters and a special tasting of this delicacy. Time at leisure and return transfer to the vessel. Captain's dinner with live entertainment on board. Overnight in Slano. (B, L, T, CD)

DAY 3: SLANO (STON) – MLJET
In the morning, the cruise continues further north to the Island of Mljet. The legend says Greek hero Odysseus spent years on this island when he was captured by the nymph Calypso. Join the cruise manager for a stroll to the famous salt lakes in the Mljet National Park and enjoy the boat ride to St Mary Isle to visit an ancient Benedictine monastery, an old abbey and a Church dating back to the 12th Century. Alternatively, you can rent kayaks, bicycles, scooters or convertible cars to roam around the National Park or island on your own, but beware of the nymphs! Overnight in port Polača or Pomena. (B, L)
DAY 4: MLJET – KORČULA
Early morning departure towards the island of Korčula, best known as the birthplace of Marco Polo. Stop for lunch in one of the secluded bays en route. Afternoon arrival in Korčula Town followed by a guided walking tour of this enchanting place surrounded by walls and one of the best-preserved medieval cities in the Mediterranean. Fishbone street pattern was used in the design of Korčula Old Town for a natural cooling effect and it provides citizens with sheltered and comfortable accommodation. Korčula has an abundant choice of restaurants to enjoy a gourmet experience and numerous bars for those looking for evening entertainment. Optional excursion to a small village near Korčula Town for a typical Dalmatian dinner and learn about the history and traditional way of living. Overnight in Korčula. (B, L)
DAY 5: KORČULA – VIS
Continue to the island of Vis, once, in the 4th century BC, one of the main Greek colonies. Vis is relatively under the radar for tourists. For a long time, it was in use as a Yugoslavian army base – until 1991. As a result, the culture and architecture are extremely well preserved. Rosemary, capers and sage grow wild around the island. Try some exquisite local wines. If interested, visit the remains of the Roman thermal place, City museum or simply take a walk enjoying the views of the beautiful Villae Rusticae situated along the waterfront. Overnight in the port of Vis. (B, L, T)

DAY 6: VIS – Biševo (Blue Cave)/HVAR
Early in the morning, cruising resumes towards the small island of Biševo to visit the Blue Cave, a magnificent natural phenomenon (entrances to be paid on the spot – approx. 10-15 EUR). As sometimes weather conditions can be very unpredictable, the possibility of a cave visit will depend on those conditions, however, you will be notified in time. Continue towards the jet-set island of Hvar with a swimming stop and lunch on board at the Pakleni Islands. Hvar, the longest and sunniest island in the Adriatic is known for glorious lavender fields and breath-taking beauty. Arrive in the afternoon for the guided tour of Hvar – visit the Renaissance cathedral with its original tower, and the oldest community theatre in Europe, founded in 1612. Hike up the zig-zag path to the town fort overlooking the harbor for lovely scenic views of the vessel and the Paklinski Islands. Hvar offers an abundance of entertainment in the evening – numerous restaurants, bars and clubs, many open long into the night. Overnight in the port. (B, L)
DAY 7: HVAR – (BOL) SPLIT
Morning departure to Brač island where swimming is planned at the most famous beach in Dalmatia – Zlatni Rat near Bol – whose shingle promontory shifts from side to side as the wind and waves constantly cause the shape to change. Bol is a typical fishermen's village converted into a popular tourist destination yet retaining its charm. Continue to Split to join a guided tour of the city upon arrival. This historical town under UNESCO world heritage protection will knock you off your feet with its abundance of things to see and do and with its unique lively atmosphere. Overnight in Split. (B, L)
DAY 8: SPLIT
One last breakfast onboard followed by goodbyes with the crew and new friends! Check-out by 9 AM. (B)
Split to Split
Northbound loop – September 16-23, 2023
Day 1: SPLIT – PRIMOŠTEN
Check-in followed by departure from the Split harbor at 2.
Enjoy a welcome cocktail and unbelievable views of the surroundings while cruising towards Primošten. A swim stop in a quiet, secluded bay en route for a refreshing afternoon swim. Primošten is a small picturesque town situated between Šibenik and Trogir, surrounded by seven other islets, a wonderful sight and an exceptional breathtaking place to explore. Try the famous local Babich wines. Dinner and overnight on board. (D)
Day 2: PRIMOŠTEN – TELAŠĆICA, SALI
After breakfast, cruise towards Dugi Otok and a morning swim stop, followed by a visit to the Telašćica Nature Park which is surrounded by 13 islands and islets. Due to its intense beauty, richness and importance, it was proclaimed a nature park in 1988 together with 6 islets inside the bay of Telašćica. Time at leisure to explore the white cliffs and the lake. After lunch onboard cruise toward Sali. Afternoon olive oil tasting in Sali. Dinner on board and overnight in Sali. (B, L, T, D)​
Day 3: SALI – MALI LOŠINJ
After breakfast and a morning swim, cruise towards the island of Lošinj, known as the sunshine island. An abundance of pines, wildflowers and herbs, its excellent climate, hidden coves and cool Mediterranean vibe – all of this makes Lošinj one of the most popular islands on the northern Adriatic. Join a guided walking tour, followed by a visit to the Museum of Apoxyomenos. The museum is dedicated to the ancient bronze statue of an athlete found in the sea near the island. Walk up to the Lošinj Aromatic Garden or to the smaller town of Veli Lošinj both easy to reach and explore on foot. Overnight in Mali Lošinj. (B, L)
Day 4: MALI LOŠINJ – ZADAR
Morning cruise towards Zadar, travelling by Pag island with its unusual moon-like landscape. Upon arrival in Zadar, join a guided tour to explore the rich cultural heritage: the Roman Forum from the 1st century AD, the church of St. Donatus from the 9th century AD – the most famous medieval basilica and symbol of the city, the imposing and mighty city walls with the representative Port and Land Gates from the 16th century AD, and numerous palaces and villas of former noble families. Great restaurants line part of the waterfront and the centre. See the famous contemporary attractions: the Sea Organ, one of a kind in the world and "The Greeting to the Sun" light installation. Overnight in Zadar. (B, L)
Day 5: ZADAR – NP KRKA – ŠIBENIK
Wake up and admire the scenic views as the cruise proceeds south, while having a wonderful breakfast. Upon arrival to Skradin, visit the Bibich winery or similar for wine tasting and light tapas lunch. Back in Skradin, walk through the Krka Waterfalls National Park. There are 17 waterfalls, with cascades up to 100 m wide, and the Krka river tumbles 45.7 meters. The late afternoon destination is Šibenik, a town situated in the very central part of Croatia's Adriatic coast. Join the guided sightseeing tour to explore the glorious old town, the cultural monuments and possibly the most famous one here, the UNESCO listed Cathedral of St James. Wander around and discover the historic core and waterfront. Back on the vessel for the Captain's dinner with live entertainment on board. Overnight in Šibenik. (B, T, CD)​
Day 6: ŠIBENIK – VIS
Early morning cruise towards the island of Vis, once a strategic naval Yugoslav base and for many years closed for tourism. As a result, the culture and architecture are extremely well preserved. The town Vis was developed near the remains of the ancient Issa, the first urban centre in Croatia. After the lunch on board, time at leisure to explore. Taste great local wines, visit the remains of the Roman thermal place, the City Museum, rent a scooter, or simply take a walk enjoying the views of the beautiful Villae Rusticae situated along the waterfront. Overnight in the port of Vis. (B, L)
Day 7: VIS – BIŠEVO (BLUE CAVE) – SPLIT
Morning cruise to the small island of Biševo to visit the Blue Cave, a splendorous and unique geomorphological natural wonder. A hypnotizing silver-blue light illuminates the space inside the cave (Entrance fee approx. 15€, to be paid on the spot). The visit will depend on the weather & tide conditions. After lunch, as the cruise continues towards Split, enjoy the unbelievable views of the surrounding seas and the amazing Split Riviera. Upon arrival, join the guided city tour. A dynamic port city with a medieval Old Town grown around the 1.700-year-old Diocletian's Palace, Split bustles with modern life amid its ancient Roman setting. Cafés, restaurants, and galleries cram the cobblestone alleyways, the waterfront and the Marjan peninsula, making Croatia's second-largest city one of the Mediterranean's most compelling. Overnight in Split. (B, L)
Day 8: SPLIT
Last breakfast on board, followed by goodbyes to all. Check-out and transfer to the airport. (B)
* Legend: B – breakfast; L – lunch; D – dinner; T – tasting; CD – Captain's dinner
Getting There
Flights to Croatia: A few notes about booking your flights, hotel suggestions, etc.
Flights: Airlines publish flight schedules 330 days in advance, so you'll be able to start your flight booking in late August 2022. This may not necessarily be the best time to buy. Generally the end of summer/early autumn brings some lower pricing. The early part of the new year from mid-January to mid-February is the same. Kayak.com has a feature that will notify you if fares are going up or down, trends, and will advise as to whether you should buy now. You need to create an account, which costs nothing, for this service. You'll get an email when fares are trending up or down. It's a nice feature which I use often. Based on previous tours there, I anticipate round trip fares to be in the $1300 ballpark from Seattle.
Week 1: Dubrovnik to Split
The ship won't depart until the following morning with an overnight in Dubrovnik, so you can arrive any time on the 9th. You don't want to miss dinner, though so plan accordingly. To arrive on the 9th, your flight will depart from the USA on the 8th. Dubrovnik is well worth additional time. As much as I would have liked to offer a pre-cruise option to Dubrovnik, the local hotels cannot compete with the thriving Airbnb and VRBO community. You are able to book your own stay at a much more affordable price than I can with a hotel. When we get closer to the tour, I will identify one hotel with reasonable rates to book if you'd like to stay with other tour members and don't want to stay in a private home.
I can't stress enough the importance of allowing yourself the most time possible in connecting airports. This is most important on your way TO Europe as you don't want to miss the boat or a hotel reservation.
Week 2: Split to Split Loop
Unlike the northbound itinerary departing from Dubrovnik, this cruise will leave at about 4 PM on the 16th. Plan to arrive on an AM arrival that morning. Better yet, come early for 1-3 nights. It's a great city with lots of historic and architectural heritage, not to mention numerous wonderful dining options.
If you are going to Split early, I have a suggestion or two related to hotels. Airbnb is an excellent alternative to traditional hotels in Split and Dubrovnik. I suggest going with a host that has a track record. Be sure the search includes AC. Be aware that your taxi or Uber may not be able to get you to the door of your property. You may have to schlep your bag to your accommodation.
There are a lot of very nice resort-style hotels outside the central core. My focus was more along the lines of properties located near the historic center for restaurants and the access to the boat harbor. I looked at a few hotels while I was there and have a few suggestions here:
Dubrovnik Hotels
My suggestions here are mostly by location and quality of customer reviews. I've been to Dubrovnik three times, but never stayed in a hotel. Each visit has been by ship. You want something close to old town, but perhaps not in the middle of it. The crowds were not an issue last time I was there. I think the excitement has abated somewhat from the "Game of Thrones" filming. Keep in mind that your driver may not be able to get you right to the door of your accommodation. Before you commit to a rental property, ask your host what the access is like. And again, AC is very important.
Weather
In a word, warm. Highs typically average 77 with low averages about 65. Water temperature for September is about 75 degrees. September is the ideal month. August is much too hot (and crowded). October air and water temperature start to drop off and the evenings are chilly. There's no better month than September.
Travel Insurance
Tour and cruise payments are generally non-refundable. If you need to cancel, and I am able to fill the vacancy from a waitlist, I'll be able to process a refund to you. If I'm unable to resell a canceled reservation, payments are non-refundable. If you'd like to receive a no-obligation quote for travel insurance, fill in the blanks at the bottom of the page at this link: https://nwtravel.com/about/ or visit the Generali Insurance site.
Join us for a wonderful experience in this ancient corner of the world. Here's what you'll experience…
Seven nights aboard a Deluxe Private Yacht, calling on the storied islands of the Dalmatian Coast.
Full crew component
Air-Conditioned Cabins
Buffet Breakfast each morning
Three-course Buffet Lunches daily
Welcome dinner
Farewell Captain's Dinner
Free Wi-Fi
Aft platform for swimming and snorkeling
Services of a tour manager throughout the week
Guided walking tours in ports of call
Entrance fees to National Parks and tour sites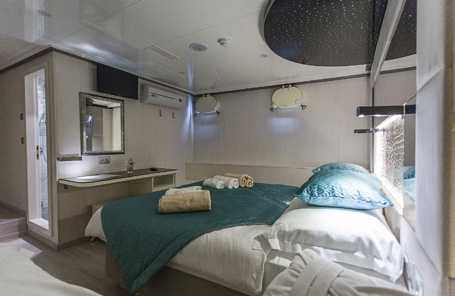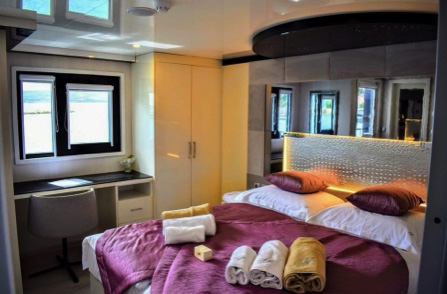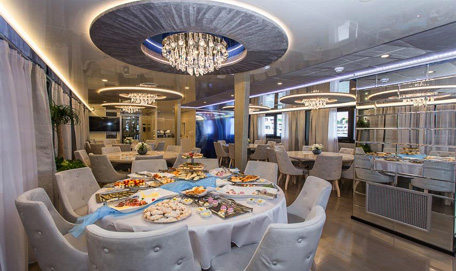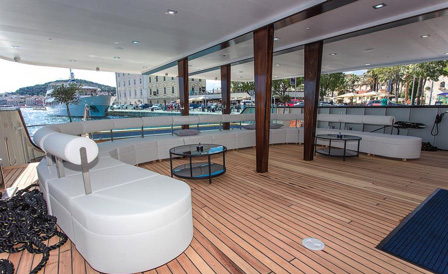 Costs:
There are just two types of accommodation aboard this yacht. They're all quite spacious and comfortable. All cabins are equipped with Air Conditioning.
Upper Deck (11 cabins) have a small balcony with seating area. These cabins average 169 square feet and have larger windows that open.
Lower Deck accommodations (8 cabins) are slightly larger with an average of 194 square feet. These cabins have port holes. I occupied one of these cabins for the 2021 cruise and found it to be very comfortable. A larger cabin than expected, extremely quiet.
Each cabin can be made up with either two single beds or one queen.
Pricing is by category and is "per person," based on double occupancy. Single pricing is 200% of the share price. Cabin sizes vary, but all include the same amenities.
| | | |
| --- | --- | --- |
| Lower Deck (portholes) | Cabin 1-8 | $2250 |
| Upper Deck (window, balcony) | Cabin 9-19 | $2750 |
Pricing includes accommodations on board, all breakfasts and lunches, dinners as indicated, port taxes, national park fees, guides for tours, and our on-board tour manager.
Initial deposit is $1200 per person to confirm your reservation. Balance is due June 1, 2023. Payment by Visa or Mastercard is welcome. If you choose to pay for this cruise by check, a discount of $150 per cabin is deducted from your final payment.
If you decide to do both cruises, back-to-back, there is a discount of $150 per person.
Croatia will move from the Kuna to the Euro in 2022. The prices offered here assume an increase of 10% based on demand and the move to the new currency. Posted prices are guaranteed, and will not increase once booked.
Updated availability as of 1/6/23:
Week 1-4 Lower Level cabins available-Upper level sold out
Week 2-Lower Level cabins sold out-1 Upper Level Cabin open
Extended touring
Information will be posted in early 2022 related to pre-cruise and post cruise options for this excursion. Pre-cruise tours include additional time in Dubrovnik with side trips to Montenegro and Serbia. Post-cruise options will be available for a reprise of a week in Tuscany, tasting Italian wines and touring hill towns from a private Tuscan Villa.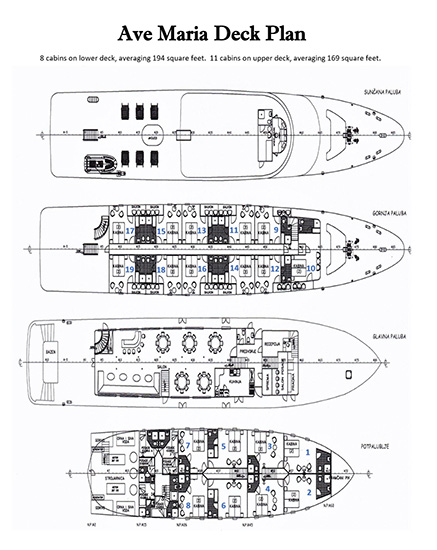 Questions? Comments? Contact me, preferably by email at brad@nwtravel.com, or by phone at 425 375 2676.