October 3-10, 2020
About the History Guy: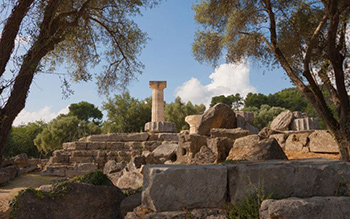 Mr. Lance Geiger has worked as a park ranger, a college professor, a corporate trainer and an insurance salesman before following his passion to become The History Guy on YouTube.
The award-winning YouTube channel presents stories of forgotten history, and has garnered over twenty-seven million views and 279,000 subscribers as of March, 2019. He was an award-winning public speaker in college, and has coached public speaking professionally for over three decades.
You're visiting this page either as a past traveler with Northwest Travel Service or one of the many fans and subscribers of The History Guy on YouTube. If you have even a passing interest in history and you haven't already, I strongly suggest you search him out. I always have had an interest in History, and you'll find Lance Geiger brings it all. I never had a history teacher growing up that was able to make the subject come alive as The History Guy has.
The Costs:
Your costs is determined by the onboard accommodations you select. This program includes your accommodations, meals, drinks, shipboard entertainment, and port taxes. Keep in mind that the pricing listed here includes port taxes. Many cruise sites do not include this in initial pricing.
Guests traveling with Northwest Travel Service will also gain admission to all "History Guy" events on board ship throughout the week.
Accommodations on board: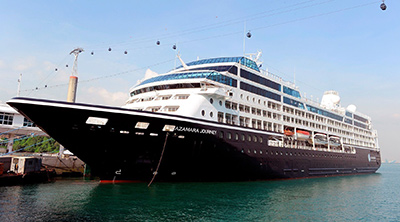 You have a choice of accommodations on board, ranging from the least expensive inside cabin, to large suites with verandahs. In addition to the square footage, cabin location is also an important factor in making your selection.
Accommodations lower and toward the center of the ship generally provide for a smoother ride and less motion. Some people choose a cabin close to the pool area, knowing in advance that this is where they'll spend most of their time. Others would prefer to have better access to the dining room or show lounge. The prices of specific categories are listed here along with the deck location. A link to the interactive ship diagram page at Azamara is provided as well.
Cruise costs by accommodation type:
| Category | Double* | Single | 3rd/4th guest |
| --- | --- | --- | --- |
| Interior Stateroom | $1722 | $3444 | |
| Oceanview Stateroom | $2022 | $3921 | $1122 |
| Verandah Stateroom | $2422 | $4721 | $1122 |
| Verandah Plus | $2712 | $5301 | |
| Club Continent Suite | $4602 | $9081 | |
| Spa Suite | $5772 | $11321 | |
| Ocean Suite | $5932 | $11741 | |
| Owner's Suite | $6212 | $12301 | |
*Double rates are per person, based on two people sharing a stateroom
**Some cabins accommodate 3rd or 4th guests in the same cabin
Port taxes of $123.24 per person are included in these fares.
For specific category descriptions, please click on the link: Staterooms  |  Suites
The Ship
Azamara Cruise's Journey was originally launched in 2000 and was part of the Renaissance fleet. Since that time, Journey has undergone a number of upgrades and refurbishment, including a scheduled makeover late in Summer 2019.   These R Class ships carry only 690 guests, but provide all the amenities you would expect to find on a larger vessel. Azamara Journey Deck Plan
Itinerary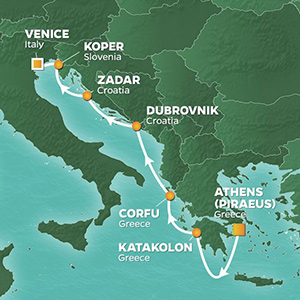 Day 1: Athens, Greece
Depart 5 PM
Day 2: Katakolon, Greece
Arrive 11 AM; Depart 6 PM
Day 3: Corfu, Greece
Arrive 8 AM; Depart 5 PM
Day 4: Dubrovnik, Croatia
Arrive 8 AM; Depart 8 PM
Day 5: Zadar, Croatia
Arrive 1 PM; Depart 6 PM
Day 6: Koper, Slovenia
Arrive 8:30 AM; Depart 11 PM
Day 7: Venice, Italy
Arrive 9 AM; docked overnight
Day 7: Venice, Italy
Morning disembarkation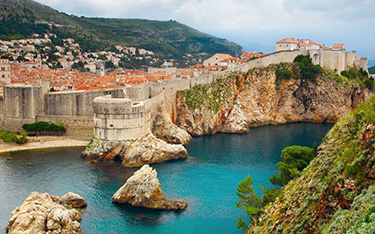 Full itinerary at Azamara Cruises website at this link: Journey Voyage Itinerary
Ports of Call
Azamara's philosophy is to provide as much time as possible in ports of call. No long days at sea. It's just the right combination of time ashore and on board. You're free to spend time on your own, join one of the Azamara shore tours, or a tour offered by Northwest Travel Service.
Shore Tours
Azamara offers a wide range of shore tours in each port of call. Tours are available to book on board or via the cruise line website once your reservation is confirmed.
Northwest Travel Service will offer supplemental shore tours accessible to group members. A list of those tours will be provided to you about 6 months in advance of the sailing.
On-Board Activities
Welcome Cocktail Reception
Historical sessions and Q&A with The History Guy
History Guy Team Trivia for Bragging Rights & Prizes!
Group shore tours
Farewell event
Flight suggestions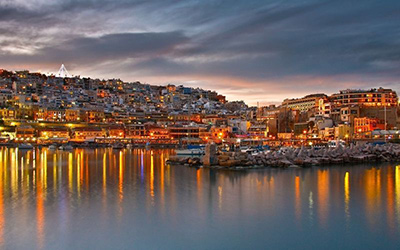 The ship departs from Athens' port city of Piraeus at 5 PM. You should expect to be able board the ship after 1 PM that day. I strongly suggest that you arrive in Athens at least a day before for a number of reasons. You'll be better adjusted to the time change, have a chance to see the city, and not run the risk of an airline departure ruining your holiday.
The ship arrives in Venice the day before disembarkation. If you're flying home immediately after the cruise, you may book your departure for any time.
To search flights, I suggest tapping into one of the online search engines such as Kayak, Orbitz, Travelocity. My current favorite is Kayak.com. Sometimes I book with the link provided on the Kayak site. In some instances, I take the fare and schedule information directly to the carrier website to book there. Flight schedules and inventory are generally available to book 330 days out. For this tour, the early part of November 2019 is the best time to start searching fares.
Sample Fares in US Dollars
SEA-$1597    YVR-$1047   NYC-$726      MIA-$1077   SFO-$1064    AUS-$1278
MSP-$1270   YYZ-$697      WAS-$1095  ORD-$1040  DEN-$1438   STL-$1402
LAX-$958      PHX-$1416   BOS-$776      MSY-$1506   SLC-$1431     ATL-$1484
Fares are based on a search done July 2, 2019 with an arrival in Athens, and departure from Venice. Fares change often. Actual fares at time of purchase may be lower or higher. These specific fares are based on a Kayak.com search for a Friday outbound, Saturday return in October. Mid-week travel is nearly always less expensive. These fares are based on one flight connection each direction. I've not listed no-frills fares through consolidators such as Ovago, Orbitz, or Vayama. These fares are almost always cheaper, but seat assignments, baggage and other basics come with an added charge.
Athens Airport (ATH) Airport is your closest airport. Remember that you lose a day in travel, so an arrival in Athens on October 3 requires a departure from the USA on the 2nd. Once again, I suggest you consider coming in a day early to avoid delays.
Transportation by Taxi or Uber from Athens airport to central Athens hotels will run about $50 for the 35.5 KM trip and should take 45-90 minutes depending on time of day and traffic.
Athens overnight
I am encouraging people to come in early to Athens before sailing. To promote this, Northwest Travel Service will offer a 1-3 night pre-cruise stay option in Athens. This option will include accommodations, tax, a group event the evening before we sail, and transportation to the ship on October 3. Longer stays will also include tour components for Athens, including an historical walking tour of the Plaka, Acropolis visit, and other sightseeing options around the city. Details will be posted toward the end of July '19.
Venice and Beyond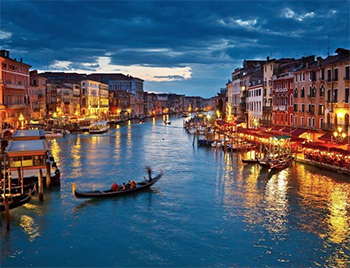 You may choose to spend a few more nights on your own in Venice after we arrive there. You'll have one night aboard ship while it's docked in the lagoon. This may be enough for some people. If you'd like to stay longer, I'll provide a list of (fairly) reasonable hotels in the center of the city.
Much more information will be shared related to getting to Marco Polo Airport following the cruise. Azamara will provide these services at a premium, but with all of the stress removed. I'll let you know the least expensive way to travel from the ship to the airport after the cruise has ended. The ship is docked the night before in the lagoon, so you'll be able to make even the earliest departures from the Venice Airport to home.
You may also be interested in a post-cruise departure to the capital of Slovenia, Ljubljana. We'll explore the city and the surrounding countryside with a local guide. Details for this 3-night (possibly 4) extension will be available before the end of September 2019.
Documentation
All US and Canadian citizens will need a passport. Visas are not needed for any of the countries on our itinerary. If you hold a passport for any country other than the USA or Canada, please check with restrictions online or via your consulate. Canadian and American travelers must ensure that their passport has at least 3 months validity after their departure date from Europe.
What if I need to cancel my flight, tour or cruise?
Because many payments are nonrefundable, travel insurance is suggested.  Both of the companies listed below have a policy rate calculator online.  Enter the cost of your tour and personal data to receive a no-obligation cost estimate.
Two recommended companies are: Generali Travel Insurance and Travelex Insurance.
Cancellation insurance will range in price based on the cost of your travel and the age of the applicant.  Get a quote at the websites above before making a purchase.  If you have a pre-existing condition to cover, you usually must purchase your policy within 2 weeks of the initial deposit.
Weather
The weather in the Mediterranean can still be quite warm in October, another reason why casual attire is a plus. I've listed some statistical data here to give you an idea of what to expect.
Athens: Highs in the mid 70s, lows in the lower 60s, 3 days rain/month
Corfu: Highs in the mid 70s, lows in the upper 50s, 7 days rain/month
Dubrovnik: Highs in the low 70s, lows in the mid 60s, 7 days rain/month
Venice: Highs in the mid 60s, low in the mid 50s, 5 days rain/month
What do I wear?
If you've experienced an ocean cruise, it's likely you were advised about dress codes for evening dining on board. Azamara holds to a "resort casual" description. No jacket and tie are required, though you're free to go all out if you like. The cruise line asks that you don't wear blue jeans for dinner. Shorts, ball caps, bathing suits, and tank tops are not permitted in the dining room for dinner. There are more casual buffet options as well. The key is to dress comfortably.
Alcohol
Most drinks, including a long list of beer, wine, and cocktails, are included in your cruise cost. Azamara also posts a menu of "top shelf" liquors and wine that is available for purchase.
Dining
The Journey provides a main dining room for breakfast, lunch, and dinner for formal service. You also have a more formal buffet option for each meal. You may also choose to dine in the evening at one of their optional experiences. Aqualina is their specialty Italian restaurant. Prime C is the Steak and Chop option. Dining at either of these options incurs a charge of $30. Multiple night plans are also available. Your cruise fare includes cover charge for one night in either restaurant. Vegan and other dietary options are offered.
More information for Dining aboard Journey
Payment
The initial deposit for the cruise is $500 per person. This may be paid by any major credit card. The balance of payment is due July 1, 2020. Balance of payment will be processed automatically on that date unless alternate arrangements are made.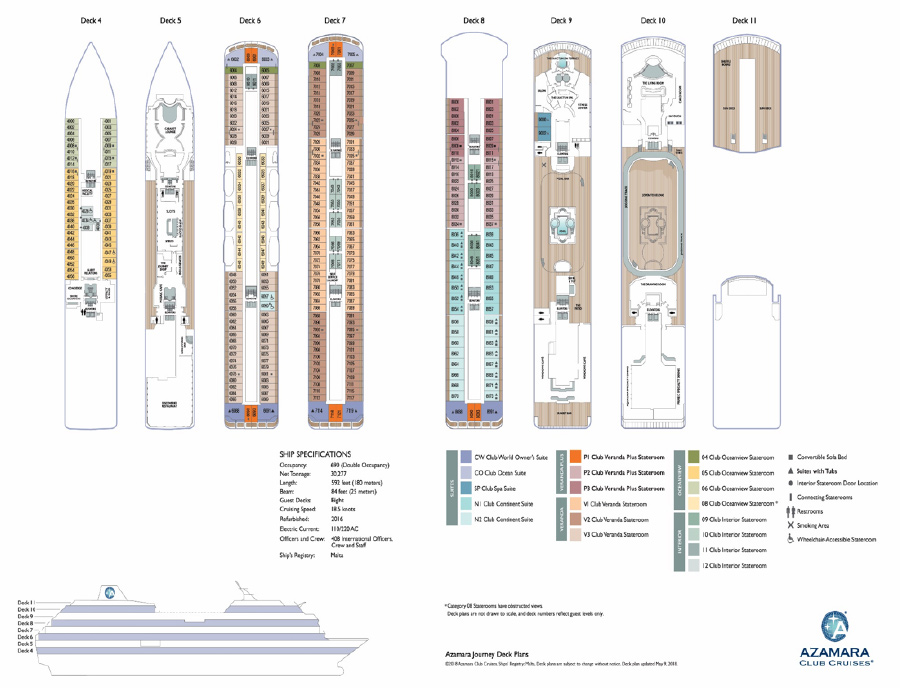 Make Your Reservation!
If you have any questions about this tour, please contact Brad Cilley at brad@nwtravel.com or by phone at 425 375 2676.