Atlas World Navigator-Seven Day Cruise
I'm excited to announce a 7-day Adriatic Cruise on the World Voyager, an expedition class luxury ship operated by Atlas Ocean Voyages. Our seven nights aboard this 190-passenger ship will begin in Venice with stops in Ancona (Italy), Dubrovnik (Croatia), Kotor (Montenegro), Corfu (Greece), and Sorrento (Sicilia) before ending in Civitavecchia, Rome's port city. We're taking the entire ship for the week, which will showcase some of Washington's best winemakers.

Itinerary | Getting There | Pricing | Reserve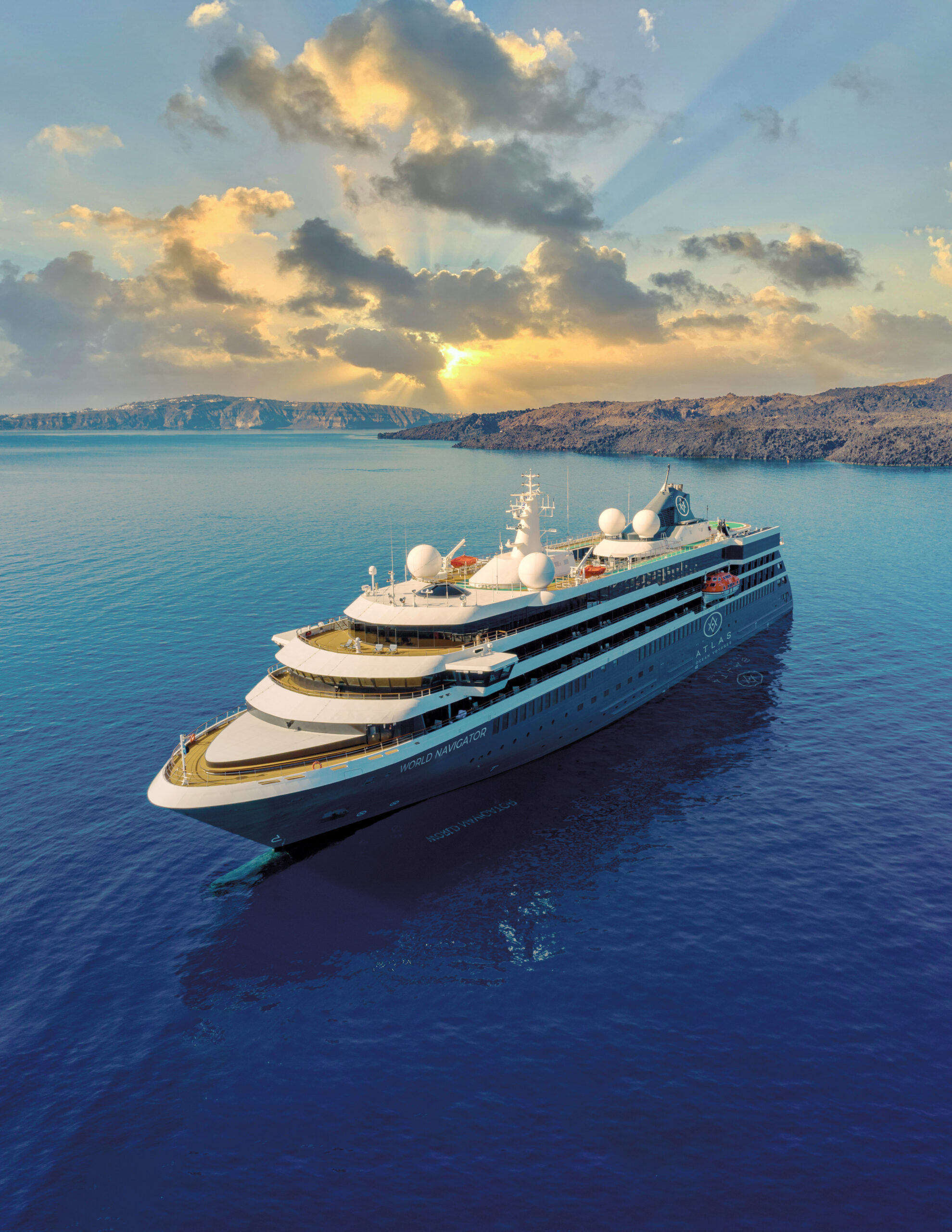 Atlas World Navigator-Set sail on a World Navigator cruise and discover remote destinations in unparalleled small-ship luxury. Ship Video here (YouTube)
In service for Atlas Ocean Voyages since 2019, World Navigator is a 190-guest vessel offering both classic cruise experiences and off-the-beaten path adventures to a curated collection of destinations worldwide. Like the vessel's sister ships, World Traveler and World Voyager, World Navigator embodies Atlas' take on casual luxury, so you can expect to enjoy incredible service, mouthwatering cuisine and elegantly-appointed accommodations.
One of the main advantages of choosing a voyage aboard World Navigator is the ship's versatility. Thanks to its polar-class rating and expedition-ready apparatus, the vessel is equally at home in warm and cold-water climates. From once-in-a-lifetime voyages in Antarctica to blissful Mediterranean sojourns, World Navigator is the ideal choice if you're looking for a small-ship cruise holiday that puts a focus on in-depth destination discovery without sacrificing onboard luxury.
World Navigator Ship Accommodation
There are nine accommodation categories on World Navigator, all of which benefit from ocean views via a large panoramic window or a private balcony. Regardless of your suite or stateroom, your accommodation will feature everything you need for a truly unforgettable cruise holiday.
Photos and stateroom description here!
Link to an interactive deck plan here.
Deck location and cabin size are specified here:
Adventure Oceanview Stateroom – 183 sq. ft | Deck 3
Veranda Stateroom – 270 sq. ft | Deck 5, Deck 6
Horizon Stateroom – 270 sq. ft | Deck 5, Deck 6
Veranda Deluxe Stateroom – 300 sq. ft | Deck 6
Horizon Deluxe Stateroom – 300 sq. ft | Deck 6
Journey Suite – 382 sq. ft | Deck 5, Deck 6
Discovery Suite – 445 sq. ft | Deck 5
Navigator Suite – 465 sq. ft | Deck 5, Deck 6
Regardless of category, all staterooms and suites have a sitting area with a desk, flatscreen television, and a private marble bathroom with L'Occitane amenities. There's ample room for storage and a spacious wardrobe. For your convenience, the accommodations also benefit from a mini-bar, complimentary robe and slippers, and 24-hour room service.
The Oceanview categories have larger picture windows, while the larger staterooms feature private balconies. The Horizon Deluxe Stateroom is slightly different, with ocean views provided by floor-to-ceiling windows and a top-drop Juliette balcony. All suite categories boast a master bedroom, additional television, a sofa, a vanity area and an oversized balcony.
World Navigator Dining & Restaurants
Cruising with Atlas Ocean Voyages isn't just about your journeys to incredible places. It's also about discovering tantalizing flavors that transcend the boundaries of land and sea. On a World Navigator cruise, you'll have the opportunity to enjoy a series of dining adventures that easily rival the best land-based restaurants. And here's the best part: Your cruise fare includes all the extraordinary dining experiences.
Porto
Porto is the main dining venue on World Navigator and is open during all mealtimes. Breakfast and lunch are buffet-style, with cooking stations serving hot items like roast beef and dishes such as pasta or curry. Served course-by-course, you can choose from chef's specialties, regionally-influenced dishes and a selection of international favorites.
Alma al Fresco
Alma al Fresco is a complimentary dining venue specializing in traditional Portuguese cuisine. Here, you can enjoy glorious views and fresh sea breezes while enjoying some of Portugal's most famous culinary creations. (Alma al Fresco is only available on European Epicurean Expeditions).
7-Aft Grill
By day, the 7-Aft Gill serves casual poolside lunches and snacks. When the sun sets, guests on an Epicurean Expedition can savor the tastes of grilled meats and fish prepared on the ship's Josper Grill.
The Dome Observation Lounge
The Dome Observation Lounge is open throughout the day and hosts World Navigator's afternoon tea service.
Paula's Pantry
Paula's Pantry is Atlas Ocean Voyages' take on the classic European streetside cafe. Swing by in the morning or afternoon and pick up barista-prepared coffees, pastries and fresh sandwiches.
24-hour room service from the 'Always Available' menu is available throughout your voyage.
Facilities, Entertainment and Activities
During the day many guests will disembark to take advantage of Atlas Ocean Voyages' complimentary shore excursion program. However, those who choose to stay onboard will find the World Navigator offers a few ways for you to spend your time. On deck 7, you'll find a small swimming pool, a whirlpool hot tub, sun loungers, a jogging track, and the Aft-7 poolside bar.
If you're at sea for a day or enjoying a spot of scenic cruising, then The Dome Observation Lounge provides incredible 270-degree views. With comfortable seating and bar service, it is ideal for sitting back and relaxing or getting stuck into a good book.
For a spot of pampering or soothing treatment, Atlas Ocean Voyages have partnered with L'Occitane for the stunning SeaSpa. Located on deck 4, the near-1,000 square-foot spa features an infrared sauna, a pool, hot tubs and a deck solarium. Deck 4 is also where you'll find the well-equipped fitness studio.
In the evening, the lounges are a popular choice with guests looking for a pre-dinner cocktail, with the Atlas Lounge a great option thanks to its stunning decor and large picture windows. After dinner, the Don Henrique Auditorium hosts occasional guest entertainment performances. Likewise, The Dome Observation Lounge provides a laid-back atmosphere, perfect for a nightcap or to discuss the day's adventures with fellow travelers.
What's included:
Seven nights aboard World Navigator
Gourmet Cuisine, Breakfast, Lunch, and Dinner
Unlimited premium pours including wine, beer, spirits, specialty coffees & sodas
Stocked minibar in every guest stateroom
On board credit to use for shore tours, spa, etc.
Butler Service in suites
Room Service
L'Occitane Bath Products
Shipboard Gratuities
Port-charges
We're in port every day but one with a day at sea just before the end of the week. You can do your own thing in each of these ports or participate in any of the shore tours that will be offered. Early booking will earn a credit to use on board.
Getting There
Flights to Venice, return from Rome: A few notes about booking your flights, hotel suggestions, etc.
Flights: Airlines publish flight schedules 330 days in advance, so you'll be able to start your flight booking in mid-June 2024. This may not necessarily be the best time to buy. Generally the end of summer/early autumn brings some lower pricing. Google Flights and Kayak.com have features that will notify you if fares are going up or down, trends, and will advise as to whether you should buy now. You need to create an account, which costs nothing, for this service. You'll get an email when fares are trending up or down. It's a nice feature which I use often. Based on previous tours there, I anticipate round trip fares to be in the $1300 ballpark from Seattle.
When you search for fares, you'll want to select Venice as your arrival city and Rome as your departure to come home. I strongly suggest that you come in at least a day early so that you don't run into a flight delay on the way over.
Venice, Italy
You're encouraged to come early to enjoy Italy's Floating City. Visit the Murano glass factories, enjoy a day at the Lido Beach. Take a water taxi from your hotel to join the ship in the early afternoon
Ancona, Italy
The capital of Italy's Marche Region, Ancona has an historic center worth visiting as well as a number of world class beaches. Tours will be offered to wine producers near the city.
Dubrovnik, Croatia
Take a walk on the city's walls. Have a sunset cocktail at Buža, just outside the walls with a perfect view of the Adriatic. Take a cable car to the top of the Srd Hill for a panorama of the old and new city.
Kotor, Montenegro
Kotor is a dramatic town where the present lives in the maze of medieval churches, cathedrals, Venetian palaces and pillars. Kotor is made up of contrasts – the old squares with modern cafes, the sounds of serenade and live music, the echo of the footsteps down the narrow cobblestone alleys and the lazy purr of cats lying under the balconies with wrought iron railings, decorated with petunias.
Corfu, Greece
Corfu is defined by rugged mountains and a resort-studded shoreline. Its cultural heritage reflects years spent under Venetian, French and British rule before it was united with Greece in 1864. Corfu Town, flanked by 2 imposing Venetian fortresses, features winding medieval lanes, a French-style arcade and the grand Palace of St. Michael and St. George
Sorrento, Sicily
Sorrento is a well worth a day on its own, but is also a convenient stepping stone for a visit to Taormina, Mount Etna, or Syracuse. The port is short distance from a large number of Sicilian wine producers.
Civitavecchia (Rome)
Our cruise ends in the port city of Civitavecchia, connected by train or express bus to the capital city. Stay over in the Eternal City, head south to Napoli, or extend your week on the Amalfi Coast.
Weather
In a word, warm. Highs typically average 77 with low averages about 65. May is a great time to visit if you want to avoid the crowds and the heat. April is a little too chilly and June is when the crowds start to come.
Travel Insurance
Tour and cruise payments are generally non-refundable. If you need to cancel, and I am able to fill the vacancy from a waitlist, I'll be able to process a refund to you. If I'm unable to resell a canceled reservation, payments are non-refundable. If you'd like to receive a no-obligation quote for travel insurance, fill in the blanks at the bottom of the page at this link: https://nwtravel.com/about/ or visit the Generali Insurance site.
I've just started mapping out tour options for guests before and after this cruise. Here are a few ideas so far. More details coming soon…
Pre-cruise option 1
Three nights with a local guide in Venice and the Veneto, touring Burano and Murano, and a day trip to Padua. May 10th to 13th. Prices and itinerary coming soon.
Pre-cruise option 2
Two nights in Milan and two nights in Lake Como with a local guide with train transportation from the lake to the ship in Venice. May 9th to 13th. Prices and itinerary coming soon.
Pre-cruise option 3
A week in Tuscany with two additional nights in Venice. Touring the hill towns of Montepulciano, Montalcino, San Gimignano, Siena, Pienza, and Perugia, sampling the local grapes along the way. May 4th to 13th. Specific details and pricing coming soon.
Post-cruise option 1
Three nights in Rome. Touring the Eternal City with a local guide. May 13th to 16th. Details coming soon.
Post-cruise option 2
Athens for three nights, followed by a small ship cruise of Greece. Just 49 passengers sailing the Cyclades including Mykonos, Santorini, Folegandros, Paros, Syros, and Delos. Pricing and specific itinerary coming soon.
Pricing for this cruise event
Pricing is based on double occupancy
Book prior to December 31st, 2023 and earn a $300 shipboard credit to use for shore tours, in the spa, or pre-cruise or post-cruise options. Be among the first 50 cabins to book and earn an additional $200 (per person) in credit. Initial deposit confirms your stateroom assignment. There's a second deposit of $1500 per person due in mid-June 2024 and the balance due the first week of January 2025.
Adventure Oceanview Stateroom – $3150 per person
Veranda Stateroom – $5150
Horizon Stateroom – $5350 per person
Veranda Deluxe Stateroom – $6250 per person
Horizon Deluxe Stateroom – $6150 per person
Journey Suite – $7850 per person
Discovery Suite – $8650 per person
Navigator Suite – $9350 per person
Initial deposit of $1500 per person for:
Horizon Deluxe, Verandah Deluxe, Horizon Stateroom, Verandah Stateroom, Oceanview Stateroom
Initial deposit of $2500 per person for:
Navigator Suite, Discovery Suite, Journey Suite
Questions? Comments? Contact me, preferably by email at brad@nwtravel.com, or by phone at 425 375 2676.