September 25-October 2, 2022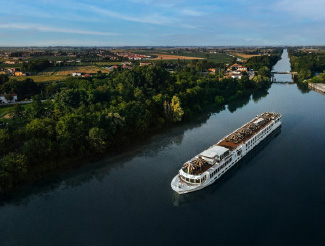 Travel to romantic Venice and treat yourself to a private evening opening and lighting ceremony at St. Mark's Basilica. Depart the enchanting "City of Water" to explore the waterfront shops, colorful facades and peaceful canals unique to Burano, Mazzorbo and Torcello.
Farther south, discover Chioggia—a charming southern port loved by fishermen, artists and anyone looking for unique gifts or souvenirs. Enjoy additional shopping time in "bountiful" Bologna and medieval Padua, once home to Galileo and Copernicus. Each of these enchanting locales is yours to uncover on "Venice & the Gems of Northern Italy."
This week in Venice and Northern Italy is all-inclusive. Accommodation, dining, beverages of all kinds, shore tours, gratuities and taxes are combined in one price. Uniworld's SS La Venezia was recently completely rebuilt and is arguably the most beautiful ship cruising the lagoon. The quality of accommodations, attention to detail, and high level of service, has made Uniworld my top choice for river cruise tours.
Itinerary
DAY 1: Venice (Embark)
Arrive at Venice Marco Polo International Airport, where you will be transferred to the ship. Uniworld will provide transportation to all guests arriving by air on September 25. Unpack, relax and enjoy your first evening on the Venetian Lagoon. Guests coming from the Tuscan Villa Week will be provided with transportation by train or motorcoach, depending on the number of participants, and taken directly to the ship, arriving in the early afternoon.
DAY 2: Venice
With your early morning arrival at Doge's Palace, you'll be able to marvel at the estate in total peace. Wander through a Venetian neighborhood and experience daily life in an authentic Venetian residential quarter. Later in the evening, cap the day off with a private once-in-a-lifetime experience at an after-hours lighting ceremony inside St. Mark's Basilica without the crowds.
Featured Excursions:
A morning walk in Venice with Doge's Palace visit
Private after-hours visit to Saint Mark's Basilica
DAY 3: Venice, Chioggia
Choose between a full-day in medieval Padua, home to Italy's second oldest university, or a Venice walking tour and a choice of several exciting ways to see Chioggia: riding on a traditional bragozzo or biking through this authentic fishing town.
Choice of Venice morning walk with gondola shipyard visit or Padua walking tour and "Drink like an Italian" or "Let's Go" biking Chioggia with Ca'zen visit and tasting, or Bragozzo ride with Ca'zen visit and tasting
A special Captain's Welcome Reception and Dinner will be prepared for you this evening.
IMPORTANT: We are obliged to comply with Italian Maritime Authorities who require that only crew may be on the ship during the Adriatic Sea passage. Therefore, our guests must disembark the ship and partake in the featured excursions.
DAY 4: Polesella (Bologna or Ferrara)
Explore Italy's culinary capital Bologna on a full-day tour packed with an exclusive pasta-making workshop and lunch or explore Ferrara on a half-day tour.
Choice of private pasta-making and Italian lunch in Bologna or Ferrara: Renaissance, elegance and Italian lifestyle town walk
DAY 5: Porto Viro, Chioggia, Burano
Today, you'll admire the greatest sites of charming and coastal Chioggia, including a stop at the local and lively market. Your ship will move to dock overnight in Burano, where you'll enjoy a lovely evening stroll through this multicolored island.
Featured Excursions:
Chioggia market visit
Evening stroll in Burano
IMPORTANT: We are obliged to comply with Italian Maritime Authorities who require that only crew may be on the ship during the Adriatic Sea passage. Therefore, our guests must disembark the ship and partake in the featured excursions. We thank you for your cooperation.
DAY 6: Burano (Torcello, Mazzorbo, and Burano), Venice
Spend the day exploring the northern lagoon of Venice and three of its captivating islands. Explore a basilica with an art historian in Torcello before heading to the peaceful, agricultural island of Mazzorbo. End the tour with a stroll through Burano's rainbow of colorful homes and visit a lace-making atelier.
Featured Excursion:
Full-day Magic Island Day–hidden treasures of the lagoon
DAY 7: Venice
As your water taxi glides past narrow side canals and the Canal Grande, you'll arrive in style at the Rialto Bridge and Fondaco dei Tedeschi. The iconic stone arch bridge sits at the narrowest point of the Canal Grande and holds numerous shops and restaurants.
Choice of "Do as the Locals Do" Venice walking tour or Rialto walking tour with Casanova
A special Captain's Farewell Reception and Dinner will be prepared for you this evening.
DAY 8: Venice (Disembark)
Disembark the ship. If you're flying onward to home or another tour destination, Uniworld will provide transportation from the ship to the Venice Airport. If you're participating in the Tuscan Villa excursion, your transportation will be arranged, either by train or motor coach, to the Tuscan villa in Torrita di Siena.
Cruise pricing by category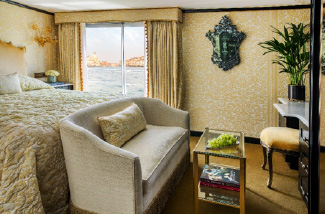 Double prices listed below are per person, based on two guests in a cabin, and do not include port taxes of $230 per person. Port charges will be itemized on your confirmation. Northwest Travel pricing includes a group discount of $200 per person and a shipboard credit of $100 per person. An additional discount of $100 per person will apply to Heritage Club (Uniworld alumni) cruise guests. See below for additional savings…
Additional savings:
Guests that choose to book and pay for their entire cruise by March 30, 2021 will save 12% on the cost of their cruise cabin. This is a limited offer from Uniworld.
Guests that combine the Venice cruise and Tuscan Villa tour will earn a discount of 5% off both tours.
Pricing is by category and is "per person", based on double occupancy. Single pricing is 200% of the share price.
| | | |
| --- | --- | --- |
| Category | Double occupancy | Single occupancy |
| Suite | $6,799 | $13,798 |
| French Balcony | $5,199 | $7,899 |
| Deluxe | $4,199 | $6,399 |
| Classic | $3,499 | $5,349 |
A description of all accommodation categories can be found here!
To book this cruise: A deposit of 10% is due at the time of reservation. Balance of payment is due May 9, 2022. Payment may be made by credit card (Visa/MasterCard/Amex). There is no discount for check for this particular tour. Keep in mind the additional early booking/payment discount mentioned above.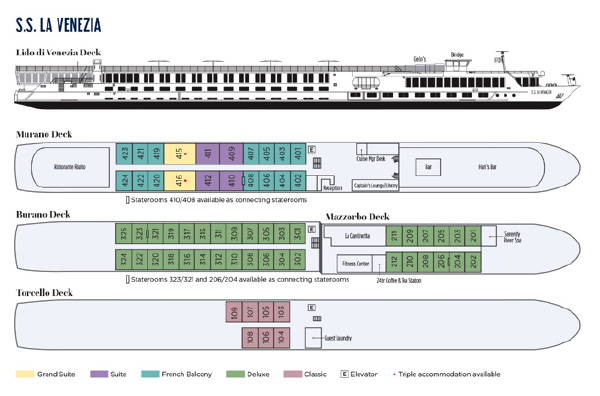 Make Your Reservation!
If you have any questions about this tour, please contact Brad Cilley at brad@nwtravel.com or by phone at 425 375 2676.
[contact-form-7 404 "Not Found"]
Photo in header by Pedro Szekely, licensed under the Creative Commons Attribution-Share Alike 2.0 Generic License.