July 17-28, 2023
Join author and gardener Marty Wingate on this tour of England's Lake District, Peak District, and Yorkshire. We'll visit many National Trust sites (Hill Top, Derwentwater) and RHS Gardens (Harlow Carr, Bridgewater). Private gardens, with tours provided by their owners, are well-represented as well.
Gardens are a focal point of this tour, though much time will be devoted to cultural and historic sites ranging from the excavations of Roman ruins at Vindolanda, to the ancient stone ring at Castlerigg, to the living museum at Beamish.
The Lake District and Yorkshire Tour includes:
Ten nights in deluxe hotel properties

3 nights York
2 nights Beamish
3 nights Keswick
2 nights Buxton

Air-conditioned motor coach transportation
Most meals:

English breakfast each morning
2 Lunches
7 Dinners

Admission to gardens, historic, and cultural sites as indicated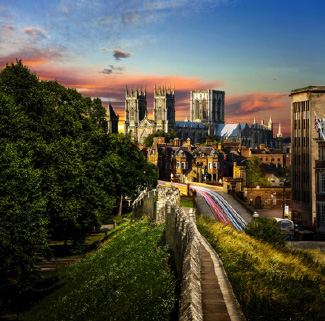 Depart the USA or Canada for Manchester. You'll lose a day on the overnight flight across the pond.
Tuesday, July 18
We'll meet up at Manchester Airport Tuesday morning at Joe's Kitchen, a small cafe located at Terminal 1 outside the baggage claim area. Our plan is to be on the road by 11:00 AM for the 90-minute drive to York and our accommodation for our first three nights.
Once we're on the way, we'll stop for a lite lunch before pushing on to York. We'll arrive about 2:30 PM in York with time to check in a rest up a bit. We'll have a guide scheduled to meet us for a short walking orientation tour of the town at 4:30. Dinner is scheduled for 7 PM this evening near the hotel.  Overnight York. (D)
Wednesday, July 19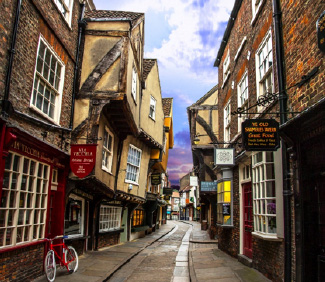 A visit to the gardens of RHS Harlow Carr with a guided tour this morning. The cathedral town of Harrogate makes a perfect stop for lunch and a walk. We'll wrap up the afternoon with a visit to the National Trust site of Fountains Abbey. Originally founded in 1132, this Cistercian Monastery was destroyed with most of the other abbeys under the order of Henry VIII. Return to the hotel in the late afternoon. Overnight York. (BD)
Thursday, July 20
We're off to Castle Howard just after breakfast this morning. We have a private tour of the gardens scheduled at 9:30 AM. From here we drive to the market town of Pickering where we'll board the 1 PM departure of the North Yorkshire Moors Railway. You'll have a boxed lunch served on the way through the moors on our way to the coast. The two-hour train ride takes us over the moors to the seaside town of Whitby. We'll have some time to stroll and shop before boarding the coach for the trip back to the hotel. Overnight York. (BL)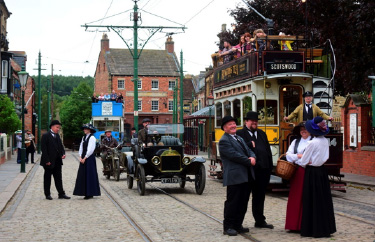 Friday, July 21
We leave York this morning for the small town of Beamish. En-route we'll visit the gardens at Sion Hill Hall. We'll have coffee after the tour, hosted by the man who has restored the gardens. We have an afternoon visit to the open-air museum at Beamish where you'll have time to explore on your own. The museum offers numerous opportunities to enjoy lunch. It's a short drive (or walk) from the museum to our hotel at Beamish Hall. Dinner is at 7:00 pm this evening at Beamish Hall. Overnight Beamish (BD)
Saturday, July 22
Today we visit Hadrian's Wall, more specifically Vindolanda, which is a major archaeological excavation of the area. We'll have a local guide to discuss the history and importance of the wall. We'll have lunch in a nearby village. On the way back to Beamish we'll stop at a private garden to be determined. Private gardens that participate in the charitable National Garden Scheme publish their "open" dates in the first part of the year. We'll select a garden or two to visit from that list. Return to Beamish late afternoon with dinner scheduled at 7 PM. Overnight Beamish. (BLD)
Sunday, July 23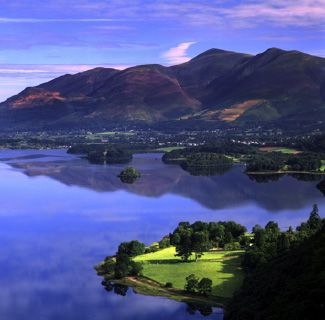 We travel to Keswick today, our home base for three nights on the shores of Derwentwater. It's about 2 hours on the coach. We'll stop for coffee mid-morning before visiting the ancient Castlerigg Stone Circle as we near town. We'll arrive in Keswick in time to check in and provide a bit of free time to explore the town. This afternoon prior to dinner we'll have a tour of the tiny, but tremendous, Keswick Brewery. Dinner will be near the hotel this evening at 7 PM. Overnight Keswick. (BD)
Monday, July 24
We're on the road right at 9 AM this morning to ensure that we are on time for our timed tickets at Hill Top, Beatrix Potter's house and garden at 9:45 AM. After the tour, we'll break for lunch (and shopping) in Hawkshead before traveling back toward Keswick.
You'll have a bit of free time to relax and grab a quick bite before the evening's scheduled entertainment.
This evening we'll attend a performance at the Theatre by the Lake, just a short walk from the hotel. When we visited in 2015, we were lucky enough to catch a version of Hitchcock's The Thirty-Nine Steps. The theatre schedule is announced 9 months in advance. This day's schedule will be updated then. Overnight Keswick. (B)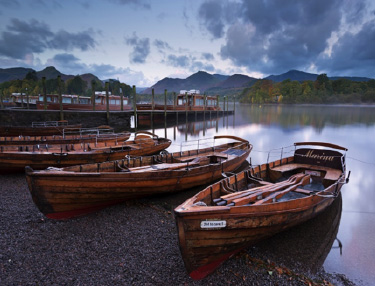 Tuesday, July 25
We'll visit a private garden very near the town called Chapelside. This is a garden that participates in the charitable National Garden Scheme of open gardens.
We'll return to Keswick, break for lunch, then gather again for a lake cruise on Derwentwater. The cruise around the lake takes a little under an hour if you stay on the boat for the entire circuit. You may consider hopping off at one or two of the mid-points to look around some. You can take the next boat which come about every hour. You've got a bit of free time this afternoon before our dinner scheduled near the hotel at 7 PM. Overnight Keswick. (BD)
Wednesday, July 26
Our drive today will be a scenic one as we make our way from Keswick in the Lake District to Buxton in the Peak District. We'll skirt the shores of Windermere and Thirlmere Lakes on our drive. We'll leave shortly after breakfast and will enjoy a visit to Levens Hall to tour the gardens.
We continue our drive to the south toward Buxton with a stop at the newest Royal Horticultural Society garden, Bridgewater. You have a choice of two cafes to enjoy lunch. After your lunch, we'll enjoy a guided tour of the most recent addition to the RHS crown. A final our on the road will find us at our base for the next two nights, Buxton, a former market town located on the edge of the Peak District.  You'll have time to check in and take a quick look at the town this evening. Dinner is on your own. There are variety of dining options in and near the hotel. Overnight Buxton. (B)
Thursday, July 27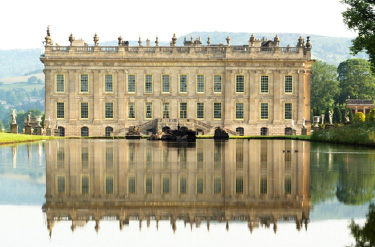 We're spending a large part of the day at Chatsworth House, touring the house and gardens. You'll likely recognize the setting as the site of film and television including Barry Lyndon ('75), Pride and Prejudice ('05) and Jane Eyre ('11), among many others.
You have a few options to stop for lunch on the house grounds during the day. We'll depart mid-afternoon for the return to Buxton. On the way, we'll make a stop at Deep Dale Nature Reserve for a short walk. The walk takes us through the car park about 3 miles to the Cock and Pullet Pub in the village of Sheldon. Anyone not wishing to walk the trail may stay on the coach to the pub. Our farewell dinner is planned for 7 PM this evening. Overnight Buxton. (BD)
Friday, July 28
Flight departures should be booked for after 10:30 this morning. It's not far to Manchester Airport, but it's nice to enjoy a final breakfast, followed by a leisurely check-out. Specific departure time from the hotel will be announced a little closer to the tour dates.
Pricing
$5380 per person, based on double occupancy. Limited single rooms are available with the supplement of $800. Guests wishing to pay by check in lieu of Visa or MasterCard will receive a discount of $175 per person.
A deposit of $1500 is required to hold your reservation. Balance of payment is due March 1, 2022.
Flights are not included, but assistance in booking air transportation is available. Estimated cost for air fare is $1200-$1500 from Seattle, significantly less for travelers that fly from Vancouver BC. For an estimate for fares from your origin city, visit Kayak.com for a quote.
British Airways offers and attractive schedule with a late morning arrival (via Heathrow) and a return departure from Manchester at noon. Guests are asked to book flights close to these times; however, arrangements will be made for transportation to Manchester Airport after the tour for earlier flights.
This itinerary is subject to some adjustment along the route. Based on weather and road conditions, we may choose to depart earlier or later than originally scheduled. Any change to the itinerary will be provided the previous day. We are on a schedule that requires on-time arrival for appointments throughout the tour.
Make Your Reservation!
If you have any questions about this tour, please contact Brad Cilley at brad@nwtravel.com or by phone at 425 375 2676.