August 8-19, 2022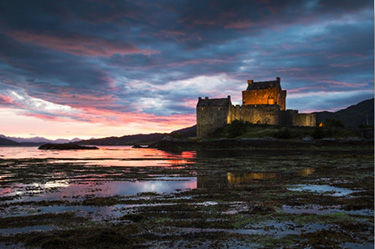 We're celebrating Scotland as the 16th country visited in partnership with Ciscoe over 20 years of garden touring. This northern-most part of Great Britain is blessed with a tradition of gardening, from the diverse collections of the large botanical gardens to backyard plots opened by owners on charity days.
We'll visit many of these gardens while blending historic and cultural sites along the way, including one of the local Highland Games that take place year-round in communities throughout Scotland. We'll have a few opportunities along the way to sample some whisky and witness how uisge beatha, Gaelic for "water of life," is distilled and enjoyed.
This tour, like so many others, has been rescheduled from 2021 to exactly a year later.  Guests that were previously booked for 2021 have first option to confirm their place for 2022.  Space will be available for new travelers as well.  Given the decline of the US Dollar over the past 16 months, costs for this Scotland tour have increased.  Guests that are moving from '21 to '22 will not be subject to the increase.
What's included for Scotland, August 8 to August 19
Ten nights in Scotland in deluxe hotel properties
Coach or train transportation throughout
Services of local guides
Breakfast each morning, eight dinners, two lunches
Admission to gardens, historic, cultural sites, and distilleries
Tickets to the Royal Edinburgh Military Tattoo
Optional Tour to Liverpool
This is a small group—Participation will not exceed 16 guests
Your cost is $5,800 per person, based on double occupancy. Single travelers pay a supplement of $1,200. Deposit of $2000 confirms your reservation. The balance of payment is due April 1, 2022. Visa and Mastercard are accepted, though a credit of $150 per person applies to those that pay for their tour by check.
What's included for Liverpool extended tour, August 19 to August 22
Rail transportation from Stirling to Liverpool
Three nights accommodation in central Liverpool
Breakfast each morning and two dinners
Admission to gardens, historic, cultural sites
Local transportation throughout
Services of local guides
Liverpool extension price is $1380 per person, based on double occupancy. Single supplement is $300. There is a discount of $50 per person for tour payment by check. No additional deposit is required at time of booking. Balance of payment is due April 1, 2022.
Flights from Seattle are surrounding airports will take you through Heathrow, Dublin, Amsterdam or Frankfurt. Estimate for fare is in the ballpark of $1000 round trip for a basic economy ticket. Expect to add between $150-$200 for seat assignments and baggage fees.
Itinerary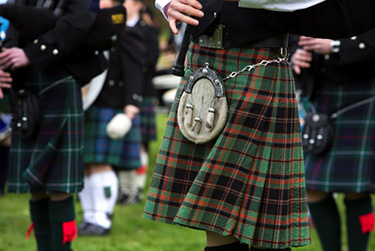 Day 1: Monday, August 8     
Depart Seattle for Aberdeen which is serviced from Seattle or Vancouver by Delta/KLM and British Airways. These carriers show connecting flights through Heathrow, Amsterdam, or Paris that arrive between 10 and 11 AM. These will be the flights you want to book.
Day 2: Tuesday, August 9
Arrive in the morning at Aberdeen Airport, and meet our transportation and guide at noon for the 45-minute drive to the village of Banchory on the River Dee.  Since we're a bit early for check-in, we've planned a garden visit at Crathes Castle, one of Scotland's National Trust flagship gardens, just a few miles from the lodge.     There's a café onsite to have lunch, then meet our guide for a walk through the garden. Dinner will be at the lodge this evening at 7 PM. Overnight Banchory Lodge. (BD)
Day 3: Wednesday, August 10
We'll start the morning at the garden of Arbuthnott House, followed by a mid-morning visit to the extremely photogenic Dunnottar Castle.
Lunch on our own in Stonehaven, a pretty seaside town south of Aberdeen.
In the afternoon, we've a visit planned of Drum Castle, another notable National Trust site. Dinner on your own at one of the restaurants in town. Overnight Banchory Lodge. (B)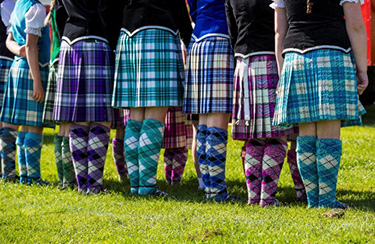 Day 4: Thursday, August 11
We depart the hotel just after breakfast today, on our way to Inverness. A short distance up the road on the way to Cairngorms National Park, the site of the 156th Ballater Highland Games, taking place just before noon. We'll spend some time watching the parade, games, highland dancers, and pipers. This will be a good time to get lunch before we journey on to Aberlour, where we'll enjoy our first official Whisky tasting at the famous Aberlour Distillery located in the town of the same name. We'll arrive at the hotel about 5:30 PM with dinner scheduled nearby at 7.
The northern part of Scotland provides for ideal conditions to view the Perseid meteor showers, which peak between August 12-14. Provided the sky is clear, we'll find some time to view the phenomenon. Overnight Inverness. (BD)
Day 5: Friday, August 12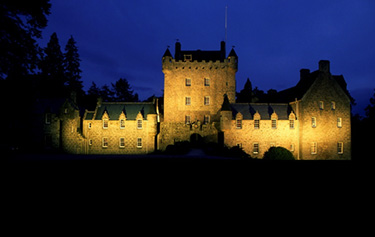 We're reducing the coach drive-time a today with a visit to two local gardens beginning with the ancestral home of the Campbell Clan, Cawdor Castle. We'll take the time to tour the garden and the interior of the castle, then break for lunch at the café located on site.
After lunch, we'll visit a private garden listed with Scotland Open Gardens, 10 Pilmuir Road West. We'll make a brief stop to ingest a bit of Scottish history at the Culloden Battlefield site. Dinner will be in town this evening. Overnight Inverness. (BD)
Day 6: Saturday, August 13
Drive Northwest to the coast. We start the morning at the private garden of Durnamuck. We then travel the short distance to the National Trust Garden of Inverewe with a break for lunch. Considering the amount of driving, we'll allow for free time this afternoon in Inverness for sightseeing or to purchase that kilt you've always wanted. Dinner is on your own in town this evening. Overnight Inverness. (B)
Day 7: Sunday, August 14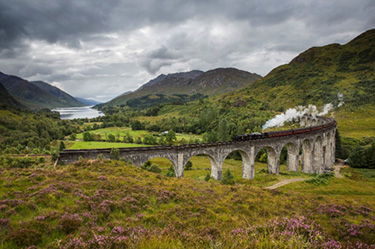 We'll depart Inverness just after breakfast for our drive south to our base for the next two nights, Oban. We'll enjoy a short stop at the Loch Ness Centre to satisfy any question you may have about the monster, and we'll have time to take an hour-long cruise for an attempt at spotting the elusive Nessy.
We'll get to the coastal town of Mallaig for lunch (on your own) before boarding the highest rated rail journey in Scotland, the Jacobite Steam Train for the two- hour scenic journey to Fort William. The train travels over the Glenfinnan Viaduct (Harry Potter) as it travels inland from the coast. The coach will rejoin us in Fort William for the last bit of driving to the town of Connel. We'll arrive at the hotel this evening about 6 PM. Dinner nearby is at 7 PM. Overnight Connel. (BD)
Day 8: Monday, August 15
Two gardens on the Calendar today. The first visit is to the private garden at An Cala, located on the island of Seil about an hour south of the hotel. We'll visit a local restaurant nearby for soup and sandwiches before our second tour, one of the best gardens in Scotland, the National Trust's Arduaine.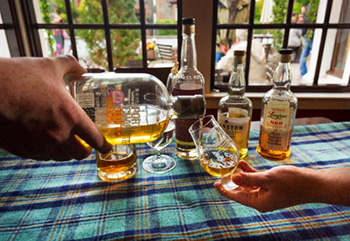 We'll wrap up our visit to the garden in time to visit the Oban Whisky Distillery on our way back to Connel. For those guests with just a passing interest in spirits, you'll have free time to wonder through this coastal community. We'll return to the hotel about 5:30. Dinner tonight at the hotel is at 7 PM. Overnight Connel. (BLD)
Day 9: Tuesday, August 16
We depart the lodge just after breakfast this morning for Stirling. The 2-hour drive through the Trossachs along Loch Lomond is a pretty one.
A mid-morning stop has us at Inveraray Castle for a tour to the gardens and tour of parts of the castle that Clan Campbell does not currently occupy. We'll enjoy a light lunch in the tearoom before continuing to Stirling. Guests might recognize parts of the castle from its role in a Downton Abbey Christmas episode in 2012.
One more stop before we arrive at our hotel this afternoon, the Bannockburn Battlefield and Visitor Center. We'll learn about the victory of Robert the Bruce over English forces, resulting in Scotland's independence in 1306.
Far less crowded and a much better value than Edinburgh, historic Stirling is less than an hour away from the capital by coach or frequent train service. We'll stay in the heart of town near restaurants and pubs and easy access to rail transportation. Dinner tonight at 7:00 PM at a restaurant near the hotel. Overnight Stirling. (BLD)
Day 10: Wednesday, August 17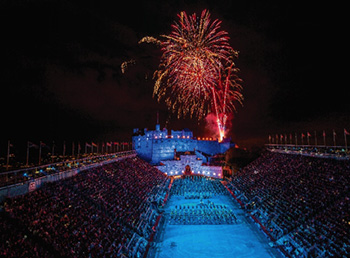 We'll get a later start today since it will be a late night at the Tattoo performance. Free time for shopping and exploring the castle and town of Stirling. Just after lunch we'll take the train to Edinburgh with an arrival in the capital about 3:00 PM. Our local guide will meet us at the station for Hidden Gardens of the Royal Mile Tour.  This tour takes about 90 minutes, and you'll have free time to so we'll break for lunch right after.   More free time to take in the amazing circus that encompasses Edinburgh's annual Fringe Festival.
We'll meet for dinner this evening, then take our seats for the Edinburgh Tattoo Performance. It's not body art! It's a music, dance and precision display with the Massed Pipes and Drums, the Bands of Her Majesty's Royal Marines, cultural troupes, singers and the poignant refrain of the Lone Piper against the stunning backdrop of Edinburgh Castle.  We'll travel from the Castle Esplanade to Waverly Station for the train trip back to Stirling. Overnight Stirling. (BD)
Day 11: Thursday, August 18
We'll have a local coach at our disposal this morning as we travel back to Edinburgh for a morning tour of the Royal Botanical Garden Edinburgh.
On the return to Stirling this afternoon, we'll make a stop at in nearby Falkirk to experience an amazing piece of engineering, the lock system known as the Falkirk Wheel. This invention uses as Archimedes Screw to lift boats from one canal to another. We'll take an hour-long boat excursion to witness the operation firsthand. We'll have our farewell dinner this evening near the hotel. Overnight Stirling. (BD)
Day 12: Friday, August 19
Our time in Scotland is at an end. Guests coming to Liverpool for the extended tour will be provided with mid-morning train transportation from Stirling. It's about 4 hours travel time by a fairly scenic rail journey, so much more convenient than flying.
If you're flying home after Scotland, you're directed to book flights home in the latter part of the morning from Edinburgh. KLM/Delta, British Airways, Aer Lingus offer scheduled departures after 11 AM. We'll depart the Stirling hotel with the intention of providing a 2-hour check in for flights. Edinburgh Airport is approximately 40 minutes away from the hotel in Stirling. (B)
Day 12 (Liverpool continuation): Friday, August 19
We'll arrive at Lime Street Station about 3 PM, a good time to check, and leave your bags. We'll be met by a guide for a two-hour orientation walk of the old town and waterfront areas. We'll take time to take a ferry across the Mersey, just to say you did it. Dinner tonight at the hotel at 7 PM. Overnight Liverpool. (BD)
Day 13: Saturday, August 20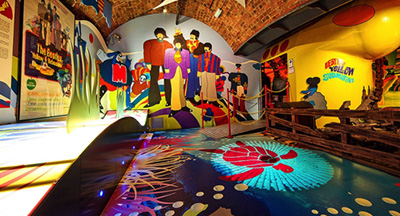 We have a private coach and guide scheduled today to take us round on our own Magical Mystery Bus to many of the sites mentioned throughout the Beatles song catalogue. We'll be back at the hotel about 2 PM for free time and shopping. If you've not had your fill of Beatles yet, I strongly recommend the Beatles Story Museum, located at the Royal Albert Dock. Dinner is on your own this evening. If you've got energy to spare, you may want to join me at the Cavern Club for live music this evening. Overnight Liverpool. (B)
Day 14: Sunday, August 21
We're back on the garden circuit today with two uniquely different visits. The first is the National Trust's Speke Hall Estate and Garden. We'll have an opportunity to tour the Tudor House and a guided visit in the garden. For the afternoon, I'll select a private garden or two that open for the National Garden Scheme. These gardens open to the public on certain days, show their gardens, serve tea, and donate their proceeds to local charities.
If you'd rather skip a final day of garden visits, take a day for yourself in Merseyside, Liverpool and surrounds are chock full of world-class museums. For art lovers, the Tate Gallery and the Walker Gallery could take much of the day. There is the International Slavery Museum, the Wirral Transportation Museum, or the Merseyside Maritime Museum. There are 20 or so more museums that I didn't have time or space to mention here.
I'll keep my eye on the Premier League football schedules for this day. It's likely that one of the two Liverpool Teams will be having a home match. Tickets are hard to come by and pricey depending on the opponent. If there is interest, I can look into getting tickets to a match for either Liverpool or the slightly less popular Everton. Our second Farewell Dinner is scheduled tonight at 7 PM near the hotel. Overnight Liverpool.  (BD)
Day 15: Monday, August 22
Late-morning flights scheduled from Manchester Airport for the journey home. Transportation will be provided from the hotel to Manchester at approximately 8:30-9 AM to allow for a 2-hour check in. Please book flights departing after 11 AM.
Flights
Departure from the USA on August 8:
The tour begins in Aberdeen (ABZ) at noon on Tuesday, August 9. Your departure from Seattle or Vancouver will be the day before, on Monday, August 8. Be certain to book one of the flights on Delta/KLM or British Air that arrive in the early to late morning. Later arrivals will have to make their own way to the hotel (45 minutes) at the cost of approximately $125.
For returns from Edinburgh on August 19 (EDI):
KLM/Delta, British Airways, Aer Lingus offer scheduled departures after 11 AM. Book one of these flights. Your return date is Friday, August 19.
For returns from Manchester on August 22 (MAN):
Delta/KLM, British Airways, and Aer Lingus each offer departures after 11 AM. These are the options you'd want so that we can avoid an early departure and missed breakfast at the hotel. Book this return on Monday, August 22.
Flights are not included in the tour costs. I've provided suggestions of carriers to contact for flights. If you'd like to book your own flights, I suggest starting with Google Flights or Kayak.com. Fill in the blanks online. You can see which airline is offering the best schedules and fares. I suggest you take the information that you've gotten here and book your flights with the carriers directly. Booking through some sites like Expedia or Travelocity may add another layer of fees or penalties above what the airline assesses. I can provide assistance to anyone not entirely comfortable dealing with the airlines.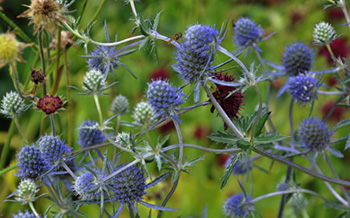 Weather
August is traditionally Scotland's warmest month, with highs averaging 66° and lows at 52°. Rainfall average for Stirling, Edinburgh, and Inverness is about 2.4 inches per month for August. Pacific Northwesterners should plan to dress for May at home.
Given the northern latitudes, we'll have an hour more daylight in Scotland than in the PNW. Sunrise is a bit after 5:30 AM with sunset about 9 PM.
Dress
These tours are quite informal. There's no need for dress duds unless you're attending an opera somewhere after the tour ends. Pack Light! Bring warm, dry, layers. Good walking shoes are a must as we are walking uneven surfaces, cobbled streets, etc.
Dining
I search for highly rated restaurants with local cuisine. Most of our meals include beer or wine. Some restaurants require that I make selections in advance from a group menu. Others allow selections from the menu. If you have a specific dietary request (Gluten, Vegan, etc.), I will find appropriate substitutes at these planned meals.
Make Your Reservation!
If you have any questions about this tour, please contact Brad Cilley at brad@nwtravel.com or by phone at 425 375 2676.
Error: Contact form not found.
Banner photo by J. Drevet (Wikipedia Commons)