January 29-February 10, 2023
Itinerary | Flights | Pricing | Reserve
A wine-lover's tour of South Africa at a perfect time of year. Summer temperatures and sunny skies in Cape Town are a pleasant alternative to winter at home. We'll visit some of the country's premier wine producers, experience nature up close, and soak up some South African sunshine.
This 12-night tour is limited to 14 participants.
Itinerary
Day 1: Sunday, January 29
Arrive in Cape Town to begin your tour. AM flights from London, Qatar, or Dubai will arrive shortly prior to noon. We'll meet our guide and driver to journey the short distance to the hotel in Cape Town near the V&A Waterfront. We'll enjoy a short driving tour of the heart of the city before arriving at the hotel for check in. Your afternoon is free to explore the waterfront. We'll meet late this afternoon for a welcome drink, followed by dinner. Overnight Cape Town. (D)
Day 2: Monday, January 30
We'll be on the first ferry to Robben Island this morning for a tour of the museum and prison complex known primarily for its association with Nelson Mandela. We'll break for lunch after the return to Cape Town, then journey by cable car to the top of Table Mountain (weather permitting). Your afternoon and evening will be free to explore on your own. Overnight Cape Town. (B)
Day 3: Tuesday, january 31
We journey southeast to the old fishing village of Hermanus, our base for the next three nights. On the way, we'll enjoy the scenic splendor and unique wildlife of the Cape Peninsula and Cape Point. We'll make an afternoon wine tasting stop at Benguela Cove Wine Estate to sample their wines. The hotel in Hermanus is just a short drive. We'll arrive approximately 4:00 PM with time to relax before dinner this evening. Overnight Hermanus. (BD)
Day 4: Wednesday, February 1
Our first stop of the morning, following breakfast, will be to the Stony Point Penguin Colony for the obligatory interaction with the Penguins and other bird species native to this area. We'll visit the estate of Bouchard Finlayson for cellar tour, tasting, and charcuterie. Another nearby producer is Hamilton Russell Vineyards. In addition to Pinot Noir and Chardonnay, we'll make arrangements to sample their olive oil. Dinner is on your own in this evening. Overnight Hermanus. (BL)
Day 5: Thursday, February 2
Another day of wine tasting in the Hermanus region, mostly known for German, French, and Northern Italian varietals such as Sauvignon Blanc, Chardonnay, Pinot Noir, Syrah, Mouvedre, Merlot, Cabernet Sauvignon, and Pinotage.
Our first stop will be at a well-known and highly rated producer at Ataraxia Wines.
Our second stop, featuring a sampling of wines and light lunch will take place at Creation Wines. On the return to the hotel, we'll make a final tasting stop at La Vierge. It's our last night in Hermanus; enjoy your evening on the water. Dinner is on your own this evening. Overnight Hermanus. (BL)
Day 6: Friday, February 3
We're departing the hotel shortly after breakfast for the drive north to the Great Karoo, a semiarid region about 3 hours' drive from Cape Town that will be our base of operations for three days of safari activities. I've chosen the Dwyka Tented Lodge at Sanbona Wildlife Reserve for the experience. We'll arrive at the camp about 3:00 PM with a short lunch break along the route. There's a chance that another wine visit will be scheduled for the day. Dinner will be served at the reserve this evening. Overnight Dwyka Tented Lodge. (BD)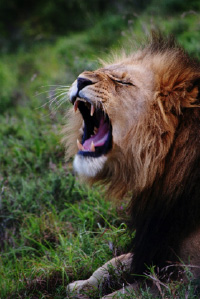 About Sanbona: At the foot of the towering Warmwaterberg Mountains in the Little Karoo lies the unique safari destination of Sanbona Wildlife Reserve. Three Luxury Lodges and an adventurous Explorer Camp nestle in 58, 000 hectares of sculpted Cape Fold Mountains and wide-open plains. Take a three-hour scenic drive from Cape Town to the heart of the Little Karoo, along the Route 62, to an unforgettable, malaria-free, private game reserve.
Experience a huge diversity of indigenous flora and fauna and rare examples of San rock art, some dating back more than 3, 500 years, plus a unique boat safari and thrilling game drives. Conservation is paramount at Sanbona and every guest contributes to preserving this wilderness for future generations.
More than a Big 5 wilderness reserve, it's the vastness of the landscape, the alluring stillness and isolation amid raw beauty and boundless plains that make Sanbona unique.
Day 7: Saturday, February 4
First full safari day at the camp provides you with options for morning or evening game drives or a wilderness walk. All meals and beverages (not alcohol) and scheduled activities are included.  Here's a sampling of the summertime scheduled for the day:
05h00: Wake up call
05h30: Depart for morning game drive
09h00: Breakfast is served
11h00: Depart lodge
13h00: Lunch is served
16h00: Depart for afternoon game drive
21h00: Dinner is served
Overnight Dwyka Tented Lodge. (BLD)
Day 8: Sunday, February 5
This day is nearly identical to the day before. You decide whether a game drive or wilderness walk is to your liking.  Overnight Dwyka Tented Lodge. (BLD)
Day 9: Monday, February 6
We'll depart Sanbona this morning after our final breakfast on safari. We're heading to Franschhoek, the heart of the Cape Winelands. On the way, we'll make a stop in Worcester for a lunch break, then a visit to a local wine producer TBD). Shortly before our arrival at the hotel at approximately 4 PM, we'll stop for a sampling of wines at Haute Cabrière. Dinner is scheduled near the hotel this evening at 7 PM, allowing time to see the town. Overnight Franschhoek. (BD)
Day 10: Tuesday, February 7
Our focus today will be on three wineries in the Paarl region. Our first stop of the day will be at Nederburg Winery. Babylonstoren is our lunch stop with a tasting of wines, ploughman's platter and time to visit their outstanding garden.   Out late afternoon visit will be at Avondale, before returning to town. Dinner is on your own this evening. Overnight Franschhoek. (BL)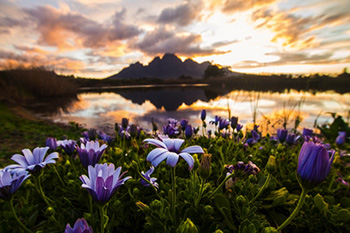 Day 11: Thursday, February 8
Today's focus are wineries in the Stellenbosch area. First visit is at KanonKop for a private tasting and time to explore their shop, a self-guided tour of the cellar, or the art gallery. South African food specialties and wine pairing will be our lunch stop at Le Pommier Wine Estate, and we'll wrap up our day at ending at the Meerlust Estate Winery. Dinner is on your own this evening. Overnight Franschhoek. (BL)
Day 12: Friday, February 9
Our final night in South Africa and today's focus is on wines in the Franschhoek region. Out first stop is at the Mullineux Estate, for tasting and a short tour of the grounds.  We'll take a leisurely lunch with wine pairings at Rickety Bridge Winery. Our final stop of the afternoon is at La Bri Wines for wine tasting and unusual food pairings. We'll dine near the hotel this evening for our farewell dinner. Overnight Franschhoek. (BLD)
Day 13: Saturday, February 10
Most flights for the USA and Europe depart late in the day, generally around 6:30 PM, which allows for nearly another full day of wine touring. We're expected to vacate our rooms by noon; however, I suggest that you leave your bags with the front desk until our planned departure from the hotel at 3:30 PM.
To keep you occupied until our coach departs, you'll be provided with a ticket for the Franschhoek Wine Tram. This tram runs from the center of Franschhoek on a number of different circuits to wineries across the valley. The transportation is included. You pay at the site for whatever wine tasting or food items you select. The tram begins its circuit at 10 AM. You have nearly the entire day. Just be sure to return to the hotel by 3 PM to gather your bags and board our scheduled 3:30 PM transportation to Cape Town Airport.
Wineries on this itinerary were selected for the overall quality and range of products as well as historic, cultural, or architectural significance.
The choice of safari camp was made based on proximity to Cape Town and the Cape Winelands, as well as the overall quality and guest reviews. The safari camp selected offers deluxe accommodations, exceptional cuisine, knowledgeable guides and excellent service.
B – breakfast; L – lunch; D – dinner
Safari
I've chosen a game reserve and safari experience in a Malaria-free zone.
Your safari stay includes your meals, and two safari excursions per day. We need to set those up the evening before each day's tours. Alcohol is not included, but is available for purchase.
Hotels on our itinerary
Cape Town: The Old Foundry
Hermanus: Misty Waves Boutique Hotel
Safari: Dwyka Tented Lodge
Franschhoek: Protea Hotel Franschhoek
Getting There: Flights to Cape Town
There are many airlines that will get you to Cape Town. I'm using Seattle as an example here since most participants will come from there.
The warmest connection cities on your way to Cape Town would be Emirates via Dubai or Qatar via Doha. More on this later. You also have KLM Via Amsterdam, British Airways via London or Lufthansa via Frankfurt. There are other airlines that will get you there via east coast gateways, but I strongly advocate flights over the pole for the most convenient service.
It's not a short trip. Depending on the carrier and connection time, you'll spend between 22 and 35 hours in transit. You may want to consider stopping over at the connection point either direction or possibly both ways. All of these airlines allow for a layover at their hub without additional costs. Staying over to stretch your legs, sleep a solid 8 hours, or see some new sights will provide for a South Africa arrival in better shape mentally and physically.
Emirates connects via Dubai. The flight from Dubai to Cape Town departs at 4 AM with an arrival into Cape Town at 11:30 AM. Keep that late/early departure time in mind when planning. Qatar Airways via Doha has a similar schedule.
British Airways connects via London/Heathrow. The flight from London to Cape Town departs at 9:30 PM, with an arrival a little before noon. Both of these options employ a redeye from the connecting city, arriving in Cape Town the morning of the start of the tour. Similar schedules are operated by Qatar Airlines and Lufthansa, with an arrival before noon.
The exception to this is Delta/KLM, with an elapsed travel time of only 22 hours from Seattle to Cape Town (via Amsterdam). The short, 90-minute connection time concerns me and the connecting flight from Amsterdam departs in the AM, with a late-night arrival. Anyone using this schedule would want to arrive a day early to join the tour by noon.
Qatar Airways and British Air have the best fares at this moment at under $1500 round trip. I generally suggest you set up a fare alert online with Kayak.com. You'll receive email advice from the site with suggestions on fare trends and the best time to buy or wait. I will likely book with either Emirates or Qatar with plans to spend a couple nights on the Arabian Peninsula on the way to Cape Town. I would be happy to make arrangements for anyone wishing to explore this option with me.
Weather in Cape Town for early February
Expect ideal conditions with highs around 80, lows in the mid-60s, with low precipitation and cloud cover. It's hard to imagine a better time to visit.
Documentation
You'll need a passport with at least 30 days validity from your departure from the country. Considering that many of the countries you'll connect through will require 3-6 months of validity, make sure your documents are up to date.  No visa is required at this time.
Pricing
This tour is based on a maximum of 16 participants. Share cost, based on double occupancy, is $6400 per person. The single supplement is $1400. These prices assume payment is made by Visa/MasterCard. Guests opting to pay by check in lieu of credit card, may take a credit of $225 per person. An early booking discount of $500 is available through January 15th, 2022 or until the tour sells out. Price does not include flights from the USA, but assistance will be provided with your booking these flights.
This tour includes:
12 nights in South Africa with:
Two nights Cape Town
Three nights Hermanus
Three nights on Safari
Four nights Franschhoek—Cape Wine County
Services of local guides throughout the tour
Air-conditioned motor coach transportation
Most meals, including:
Breakfast each morning
Seven Lunches
Seven dinners
Tour features that include:
Wine Tasting
Safari Experience
Robben Island Tour
Table Mountain
Booking your tour:
Complete the online registration. Once that is done, a non-refundable deposit of $2000 is due within seven days of confirmation. Guests paying by check should send payment to the Woodinville office. Guests paying by Visa/MasterCard will receive a secure link to process payment online.  Balance of tour payment is due October 15, 2021. Assistance with booking flights is available.
Make Your Reservation!
If you have any questions about this tour, please contact Brad Cilley at brad@nwtravel.com or by phone at 425 375 2676.